Distinguished Alumni Celebration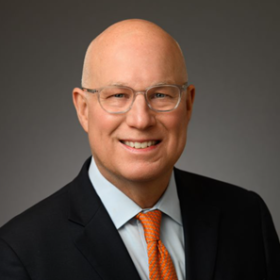 Please join us as we congratulate our
2023 Distinguished Alumnus
Mr. Ted Decker
Class of '81
Edward P. "Ted" Decker is chair, president, and CEO of The Home Depot, the world's largest home improvement retailer with more than 2,300 stores and 500,000 associates. From 2020 to 2022, Ted served as president and chief operating officer and was responsible for global store operations, global supply chain, outside sales and service, real estate, as well as merchandising, marketing, and online strategy. Over the past 23 years, he has held several strategic positions across the company, including roles in finance, strategy, business development, real estate, merchandising, marketing, and e-commerce.
Ted earned a bachelor's degree in English from The College of William and Mary and a master's degree in business administration from Carnegie Mellon University. Ted was recently elected to Carnegie Mellon's Board of Trustees.
Ted grew up in Fairview, the son of Camilla and the late Donald Decker. He is a proud Fairview alumnus, having attended both Chestnut and Manchester Elementary Schools, Garwood Middle School, and Fairview High School. His brother Dennis (Class of '79) and sister Denise (Class of '87) are also Fairview alums, as are his nieces Alison (Class of '13) and Jillian (Class of '19). Ted and his wife Cathy live in Atlanta, GA and are the proud parents of two adult daughters, Nicole and Zoe.
We will be honoring Mr. Decker along with our Barbara Junker Community Service Award winners, Debra and Andrew Foyle, at a ceremony to be held at the Kahkwa Club from 6-9 PM on Thursday, September 21, 2023.